main | links | photo gallery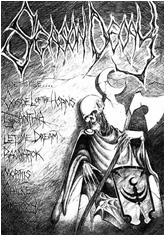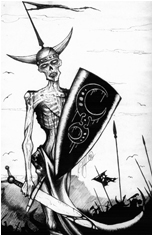 [ISSUE THREE] NEW ISSUE, 68 A4 photocopied pages, 197 reviews. Interviews; Bestial Mockery (Sweden), Carbon, Darklord, Desaster (Germany), Destruktor, Excarnated, Jesus Anal Penetration, Miserys Omen, Myrddraal, Oni, Psycroptic, Rev. Kriss Hades, Sadistik Exekution, Sithlord, and Spear of Longinus. Articles; Cuchalainn, Our Pagan Calendar and The Symbolism of the 666. SOLD OUT!
[Issue One, August 1999] 80 A4 photocopied pages, 69 reviews. Interviews; Abominator, Across the Scarlet Moat, Anatomy, Antichrist, Chalice, Decayed Divinity, Destruktor, Elysium, Gospel of the Horns, Impact Winter, Inhumate (France), Let Me Dream (Finland), Lycanthia, Misery, Mortiis (Norway), Mournful Congregation, Ragnarok (UK), Stargazer, Unsilence (UK), and Veil of Anguish. Articles; Druidry and Satanism. SOLD OUT!
[Issue Two, July 2001] 88 A4 photocopied pages,163 reviews. Interviews; Anarazel, And Oceans, Astriaal, Atrox, Crucible of Agony, Cryptal Darkness, Dargaard, Deluge, Encabulos, Grenade, Invocation, Lord Kaos, Martire, Omnium Gatherum, Sakkuth, Secratain, Skadi, and Urgrund. Articles; Aleister Crowley, Druidry and Satanism. SOLD OUT!